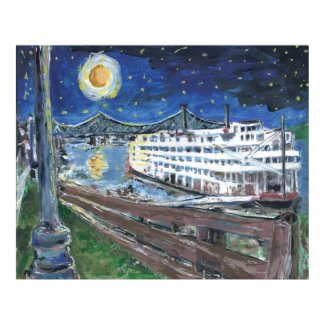 Starry Night Riverboat
by
figstreetstudio
Large format posters printing
from zazzle
I will no longer market my products at Cafe Press. I found that others were duplicating my designs and some people downloading my images and using them on products they sold at craft fairs. I complained about these issues to Cafe Press and nothing was done. In fact I was treated like I was the offending party. As I cannot trust Cafe Press to protect my art, designs, copyright, and that they allow the downloading of images that can be reproduced and used on competing products I will not longer market or add my art at Cafe Press. I have migrated most everything to my Zazzle Shop,
http://www.zazzle.com/figstreetstudio
and use them to sell and market my art from now on.
Be sure to see all the great art, prints, posters, shirts, I have at the Zazzle store. They do a good job reproducing them and they protect the artists copyright.