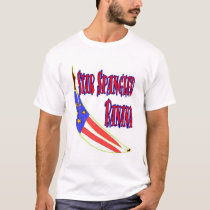 As most all of you know not only do I do art, paint in acrylics, I do
crazy t-shirts
. I started out wanting a few shirts based on ideas I had in the '60's in college. Like my
"Star Spangled Banana"
. I actually silked screen them on a screen I made. Later on my kids and I did shirts using those iron on decals with designs we came up with also based on food. (I wish I could find those 3 shirts now!) Then when I retired the creative juices had time to flow. Not only did I do art for cards, something else I silk screened in college, but the old t-shirt ideas came back and funny designs flowed.I am not sure how many designs I now have but it is a lot.
I have never really counted all the t-shirts I own but I can say I have several dresser draws full and a lot of old ones hidden in a box in the closet. I also have a lot I use as rags after they are too ragged to wear. I am not sure I can even get an accurate count. I think printed
t-shirts are an American Cultural Icon.
I believe I have seen a book written on the subject too. Which makes me wonder how many t-shirts do you own???