Fleur De Lis Washout in White
by
figstreetstudio
View other
t-shirts
made online at zazzle
Some time ago I began to use "cut outs" of various art designs in the shapes of hearts, ovals and fleur de lis. My favorite was the New Orleans Water Meter cover cut out into a fleur de lis shape. I used my computer software to do that using a fleur de lis I composed a long time ago with a paint program. I place those images on various shirts and gifts I sell on the web.
As I visit other shops locally I always notice some of my designs are duplicated often. As I have been around a long time I assume people must see my designs then feel they can improve on them so they do one. I have asked people in the past not to duplicate my designs. One such cases was another person in a far away state copied one of my Katrina designs I made to help me recover immediately after the storm. It was an exact duplicate in a different color. Often the copies are simply another color like that. I e-mailed them and they removed the image. I thought how rude to copy one of my designs when I desperately needed income to recover from a terrible crisis. That one episode was the worse case of duplication of my designs so far. After that from time to time I make silly designs just to see if anyone copies them. Yes, they do. I did a comical rendition of a Loteria, Watermelon cards. A card game from Mexico. Just for fun I painted a Mexican Watermelon card then put it on some gifts. The other day while in the French Quarter I saw one similar to my tiles. That incident confirms someone regularly copies my ceramic tile designs. Who would make a Mexican Card on a ceramic tile independently from viewing all my many ceramic tiles? I guess imitation is the high form of flattery?
This weekend I was on Magazine St and found a duplicate of my "Fleur De Lid". The image is a photograph of the Water Meter Cover cut into the shape of a fleur de lis. Maybe the person came up with that originally but as I walk around and see almost exact copies of designs I have made in the past always makes me wonder, did they get the idea from seeing my designs?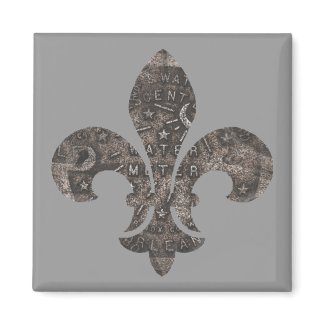 Water Meter Lid Fleur De Lis,
by
figstreetstudio
Make Magnets
at zazzle
The best example is 10 years ago I found a nice unique fleur de lis on an old ancient image from France on a building. I hand made that particular fleur de lis from that picture. It was unique and not like any other fleur de lis found in clip art. I used it to make several colored shirt designs and put it on my ceramic tiles. I was contacted by a person who wanted to open a 'Fleur De Lis' shop and asked how did I get all of my fleur de lis designs. I explained about clip art and how at times I hand draw designs. The shop open a few months later and there on her shirts were my hand made fleur de lis designs. I mentioned it to them and they said they got it from clip art? So I dropped it as it would be expensive to file any legal action over a design I came about from a photo even though I did hand draw the image that they downloaded off the web. Another local shop now routinely uses my hand drawn image on their shirts too. To me making an effort to do a design even if one of my designs was the inspiration is better then downloading one of my designs to use. Now as I see more and more that hand drawn fleur de lis seems to be everyones favorite to use in New Orleans. And I know it is the one I did from how I drew it. I have small defects in it that appear in the other peoples image. From now on I will put a minute initial in any design I make to see where it eventually shows up.
New Orleans Water Meter Lid Fleur De Lid T-shirts from Zazzle.com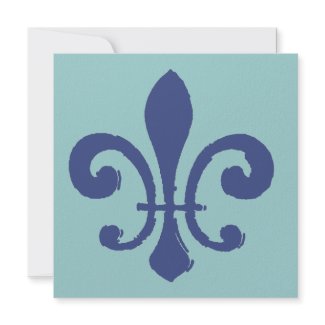 Fleur De Lis Blue Tiles
by
figstreetstudio
Make
invites
on zazzle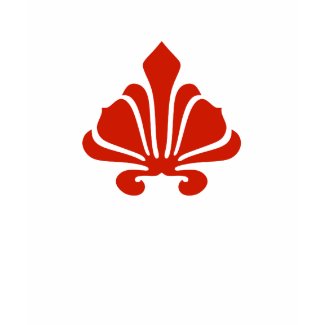 Fleur De Lis Fancy red
by
figstreetstudio
See more
Fleur T-Shirts