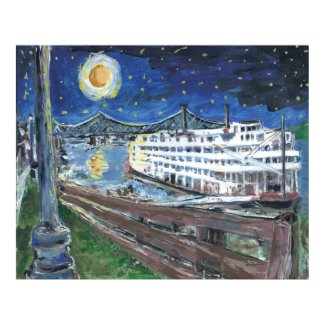 Starry Night Riverboat
by
figstreetstudio
Posters on sale Friday 2:01 PM .
Fig Street Studio at Zazzle will participate in an hourly sale where different products will be sold at deep discounts. Here is the list of sales and times they begin:
Black Friday's Sale Schedule - November 26, 2010 (PST)
(Note: The deals change every two hours, can sign up for e-mail notice below. Check with the Zazzle store for discount codes to use to get the sale price.)
12:01 AM Half Off All Mugs
2:01 AM $10 Off All Avery Binders
4:01 AM 75% Off Harry Potter T-Shirts
6:01 AM 70% Off Holiday Cards and Invites
8:01 AM 50% Off Ornaments
10:01 AM $20 Off iPhone & iPad Cases
12:01 PM 75% Off Business Cards
2:01 PM 65% Off All Posters
4:01 PM $8.80 Off $0.44 Postage Sheets
6:01 PM Half Off All T-Shirts
8:01 PM* Friday's Favorite Deal Repeat
10:01 PM* Friday's Favorite Deal Repeat
Click images here to go to the store now and line up what you will buy when they have a sale on friday.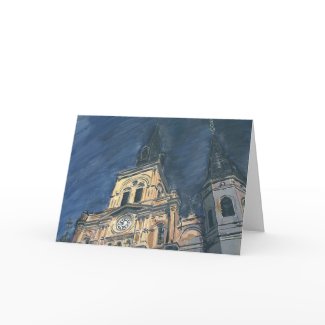 Night Cathedral Happy Holidays
by
figstreetstudio
View other
Night Cards
To kick off your holiday shopping, we's got five whole days of crazy deals. Starting at midnight on Black Friday, get exclusive Zazzle deals for only two hours at a time. Just set your alarms for your favorite deals and get the biggest savings of the year. Order custom gifts for the holidays, or stock on up your favorite designs for up to 75% off. We hope you're ready for a shopping marathon because Blitzen deals will keep coming all day long until Tuesday – that's 120 hours of back-to-back deals! Avoid the crowds and the cold this year, and get all of your holiday gifts online at Zazzle.
Get an e-mail notice here-
http://www.zazzle.com/blitzendeals