Owasco Lake Monster t-shirts, Finger Lakes,
http://ping.fm/u8qbA
From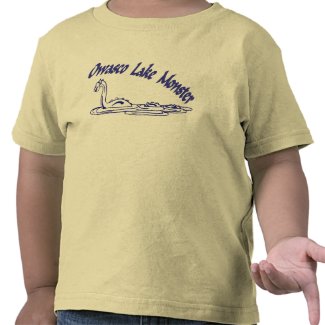 Owasco Lake Monster
by
figstreetstudio
View more
Owasco T-Shirts
Info from web page, http://www.unexplainedresearch.com/media/monster_in_the_lake.html
"Among the strange tales Lewis amassed about the Empire State is that of two fishermen who reported seeing a large serpent-like creature in Owasco Lake on July 7, 1889.
Fred C. Hayden and James O. Thomas noticed a dark form in the water at Buck Point, on the south end of the lake, that they initially thought was a tree trunk. As they approached it in their boat from a few yards away, they saw the form move in the waves of the lake before disappearing under the water.
"Several others whose veracity is not usually questioned claim to have seen the serpent," it read in the July 8, 1889 Syracuse Post-Standard article.
Almost 10 years later, lakeside residents once again confronted the possibility that a prehistoric beast was lurking in Owasco Lake. During her research, Owasco Town Historian Laurel Auchampaugh discovered a May 28, 1897 article in the Auburn Daily Advertiser - taken from the Moravia Republican - that describes another encounter between two fishermen and the elusive form in the water.
The men, whose identities were withheld, described a shape that looked like an "immense log" three to four feet in diameter and more than 50 feet long. As they came closer to it, the men's boat was nearly capsized by a "fearful splashing" near the middle of the massive object.
"They refrained from telling this occurrence, knowing that such a story would not be believed," the article stated."