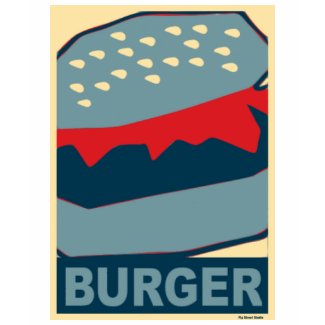 Hamburger In Blue Art
by
figstreetstudio
Everyone asks about Bingoman's Hickory Smoke Sauce, like Bud's Broiler, Secret Sauce. Bingoman has made this sauce for years and uses it on burgers and other grilled meats. Many have said it tastes like the Hickory Smoked Sauce loved in New Orleans. Well yes, it is an original New Orleans recipe made for years the same way. Best slow cooked, and slapped on warm. To help with good old fashioned home cooking Bingoman put it in a cooking blog at
http://stuffedartichoke.blogspot.com/2007/05/secret-hickory-smoke-sauce.html
Now all those displaced from home can grill up a burger, grill some sweet onions, slap them on a bun and remember when they were home. Do remember to slightly squish the bun as you place the top over the slapped on Secret Hickory Smoke Sauce.
From the Recipe Blog:
"The sauce must be cooked to develop the flavors, depending on how much you need just remember the basic is half tomato ketchup and half tomato sauce in a sauce pan.
Simmer on med heat add in the secret stuff, Liquid Hickory Smoke and Chili Powder to taste, not too much enough so the taste of the Hickory comes through and the Chili calms down the tomatoes. After it cooks a while let it on simmer and keep it warm.
Over the years I have used it in many other dishes, Frito Pie, which is just corn chips and can chili, no beans, topped off with cheese and the secret sauce. I also put it on my re fried beans as a topping with cheese. It has many uses. And you can get the Hickory Smoke Sauce apron by clicking on my store link
http://www.figstreet.com/studio
or to go to my studio store on the web at Cafe Press or Zazzle."
I have aprons with comical sayings and more at this link-
http://www.zazzle.com/figstreetstudio/aprons