Welcome!
To the Fig Street Art Studio's art blog.. Famous New Orleans Paintings and Graphic Art by New Orleans painter JK Schwehm. Prints can be signed just e-mail before purchase.
Unique Gifts, Tiles, Prints and Shirts for adults and children: Creative gift ideas from Alliagtors to Zydeco. Louisiana art, Cajun, French Quarter and more nice gifts and shirts creatively designed. Get us to design one for your club or group. E-mail jerryschwehm (at)yahoo.com
We relocated to the New Orleans North Shore after the storm but some art sold in store in French Quarter, Arius Gallery, Jackson Square. New Orleans art, paintings, cards, t shirts and more painted and designed by New Orleans Artist JK Schwehm. Please stop in and see my tiles of New Orleans as I saw it before the storm and as I see it after the storm. Come back and visit here as I add new items each week. Recently several paintings have been chosen to illustrate books. See below. I finished working on a mural for a restaurant see
http://bigredstreetcar.blogspot.com/
to follow it.
---
"
The last thing practical, no-nonsense 36-year-old New Orleans schoolteacher Nettie Dunbar expects when she gives fourth-grader Anthony detention is having the business end of a gun jammed into her face. But that's just one surprise that awaits Nettie when she discovers he'd been living on his own in the small shotgun unaware that his mama was lying dead in the shed out back." At Amazon.com
"
In Big Muddy River of Stars, her second full-length collection of poems, Alison Pelegrin continues her celebration of the quirks and characters of south Louisiana, tempered now by the devastations of hurricane Katrina and its aftermath. These sassy poems come on like a carnival parade, with boisterous shout-outs to sleepy rivers and Big Shot soda, crawfish and trailer trash and those "git-r-dones" who rebuild homes ravaged by hurricane and high water. " At Amazon.com
Click image to get to the store on the web with lots of art for sale.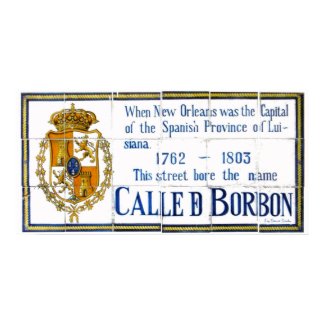 Spanish Tile Bourbon St.
by
figstreetstudio
Large format printing
from zazzle