New Orleans Art on Porcelain Christmas Ornaments,
http://ow.ly/nku3
#nola #Christmas #ornaments
A little history about ornaments below.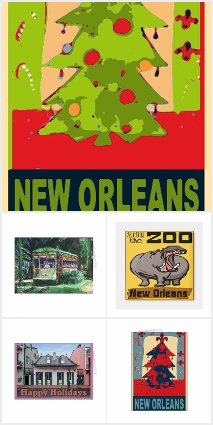 New Orleans Christmas
by
Fig Street Art Studio
HISTORY OF CHRISTMAS ORNAMENTS ON TREE
Christmas tree tradition was started by a German monk, Saint Boniface, the Apostle of the Germans. A fir tree's triangular shape represented the Holy Trinity - God, his son Jesus, and the Holy Spirit. The tree was placed inside on Christmas Eve, with simple, white candles. Later around the 5th century, candy, fruit, paper cut outs, added as Christmas ornaments. Today artists create all sorts of designs. Here at the studio we do art on porcelain ornaments sold on the web and can be personalized. See all of our unique Christmas art at Fig Street Studio, click any image.